---
Jimmy Neutron is an Oscar(r) Nominated Film? Aaack!
Did hell just freeze over? What, did I miss Satan's second coming? Should I have watched the news last night?
This morning Jimmy Neutron: Boy Genius was nominated for an Academy Award as Best Animated Film.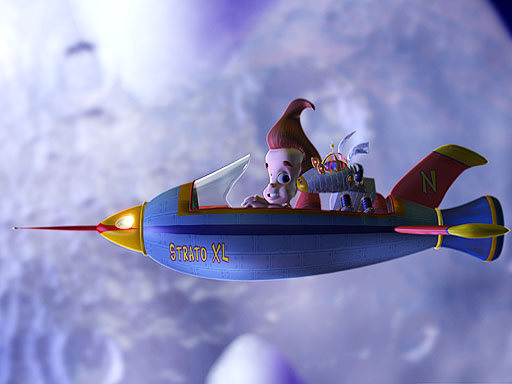 Publicity Photo from Jimmy Neutron
Disney's Atlantis: The Lost Empire was not nominated.
Nor was Atlantis nominated for score or song, and even the Emperor's New Groove was nominated for that! In fact, this is the first time in eight years that a Disney animated film isn't nominated for Best Song or Best Score. The last time was 1993, when the Academy totally snubbed The Nightmare Before Christmas.
Alien dude from Jimmy Neutron
Nope. Instead of nominating four or even five animated films, the Academy only nominated three: Jimmy Neutron, Monsters, Inc. and of course Shrek.
How badly do I want Monsters, Inc. to win?!?
Sadly, we all know Shrek is going to go home with Oscar. Ugh.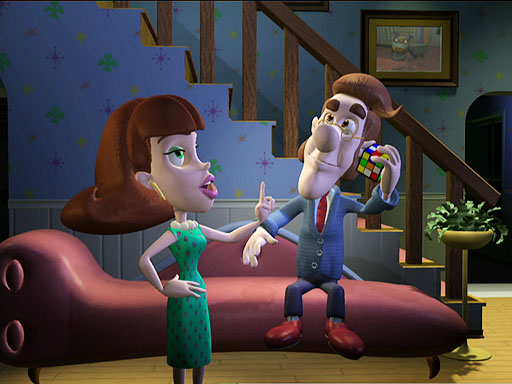 Jimmy Neutron's wonderfully designed parents. Mmm, crap.
But why was Jimmy Neutron even nominated? Written and Produced by the guy who directed Ace Ventura 2, Kung Pow and Thumb Wars (Steve Oedekerk), Executive Produced by the producer of Snow Day (Albie Hecht) and Directed by the guy who ... um, well, I guess he was an animator on Oliver The Other Reindeer (John A. Davis - NOT the guy from Korn), Jimmy Neutron is a complete piece of shit. Plain and simple.
It was contrived by a Nickelodeon retard-committee to be a TV show, and then some jackass in Nickelodeon marketing decided to make a feature film out of it. But the character designs and animation are all TV quality - no, make that budget TV quality. The film has the look and feel of chinsy TV. Not feature quality, for sure not Academy quality.
And why the total lack of traditional animation? If you have nothing else to say about Atlantis, you can at least say that it looks gooooood. Feature big shiny good.
Or you could have Waking Life, Richard Linklater's rotoscoped rambling film. It's not traditional, kiddie-style animation, but it's still animation. And isn't that what the category is all about?
Nope. Instead we have three computer animated films, ranging in quality from crap, to Shrek, to beautiful Pixar. Already in it's first year, this category is a mess. But it's on par for the Academy of Motion Picture Arts and Sciences, really.
Because frankly I think the Academy is a crock. Each year it fails to recognize that year's best talent, instead picking a random movie to give almost every award. Gladiator. Titanic. Forrest Gump. Schindler's List. American Beauty. The English Patient. The Silence of the Lambs. Dances With Wolves.
I honestly think that most of these pictures don't deserve all of the awards that they won. True, they almost all come from established directors, Cameron, Zemeckis, Spielberg, Jonathan Demme, Costner. Well, okay, almost all come from established directors. But still, Cameron, Zemeckis and Spielberg all deserved awards long before, and for better films.

And thus films like The Shawshank Redemption, Quiz Show, Pulp Fiction, L.A. Confidential, The Sixth Sense, The Insider JFK, GoodFellas and Beauty and the Beast all get shafted.

It all seems so arbitrary and unfair. Just like this year's nominees. At least the Academy is consistant.
---
home | e-mail
---

Last Updated on: February 12, 2002




&copy 2002-2004 Joshua Paul Edwards
except for Jimmy Neutron, which Viacom owns,
(congrats to them, the lucky fools)
all rights reserved.
This product is meant for educational purposes only.