---
Best Birthday Present Ever
Don't you love when you get a birthday present that you didn't even ask for, but you love more than anything you COULD have asked for? Well, I got that this week. Burger King has brought back, for a limited time, the Italian Chicken Sandwich.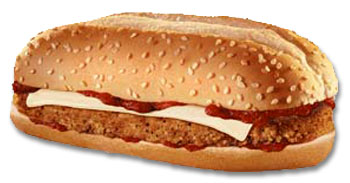 Burger King's Italian Chicken Sandwich.

It's so much better than the mystery-meat McRib, or even the Shamrock Shake. It kicks the might ass of the Mighty Wings. Grilled Chicken Flatbread? You'll be flattened.

The Italian Chicken Sandwich, with it's all white chicken with a crispy coating, comes with rich marinara sauce and melted mozzarella cheese. Beat that McDonalds! Or should I say McLamos? Yeah, I should.

Or try the Original Chicken Sandwich with it's fresh lettuce and creamy mayonnaise. It's impossible to make a wrong choice.

I'm going to have it my way right away at the ol' BK. For a limited time.
---
home | e-mail
---

Last Updated on: March 31, 2003
&copy 2003-2004 Joshua Paul Edwards
all rights reserved.
Past performance is no guarantee of future results.
12.18.2.13.3