---
Carbonated Beverages: The Next Step
So I did a little internet research, and discovered the next big sodas coming out.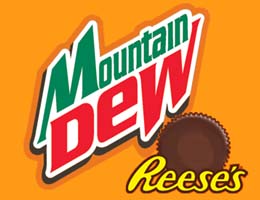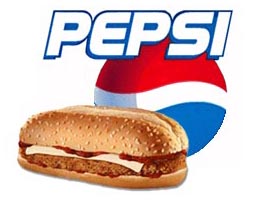 PEPSI TO CHOC-IFY AUTUMN WITH 'MOUNTAIN DEW REESE'S
Chocolate-and-Peanut-Butter-Ignited New Dew Will Be Available Nationally Soon!
PURCHASE, NY (May 1, 2003) Mountain Dew lovers and candy bar affectionados are in for an exciting fall. On Labor Day, Pepsi-Cola North America in association with Hershey Food Corporation will offer Mountain Dew Reese's, an chocolate and peanut butter Dew based on the loved Reese's Peanut Butter Cups.
Combining the unique citrus taste of Mountain Dew with a bold candy flavor, Mountain Dew Reese's initially will be available in 40-ounce glass bottles, with plans to expand into 12-packs of 12-ounce cans.
"Mountain Dew Code Red sparked category growth and expanded Dew's appeal two summers ago," said Dave Burwick, senior vice president and chief marketing officer for Pepsi-Cola North America. "This summer Mountain Dew LiveWire will rock consumers' worlds. But we feel a autumn-oriented beverage has been lacking in the public's gullet. Mountain Dew Reese's is the liquid we want them to pour down there! It will satisfy both their thirst for variety and builds on their passion for Dew."
Containing the same base ingredients and twice the caffeine levels as core Dew, Mountain Dew Reese's is the fourth line extension since the introduction of Diet Mountain Dew in 1988. Mountain Dew Code Red debuted in May 2001, with Diet Mountain Dew Code Red following in May 2002, and Mountain Dew LiveWire coming this Memorial Day.
Purchase, NY-based Pepsi-Cola North America (www.pepsi.com) is the $4 billion refreshment beverage unit of PepsiCo Inc. in the United States and Canada. Its U.S. brands include Pepsi, Diet Pepsi, Pepsi Poop, Wild Cherry Pepsi, Pepsi Twist, Pepsi Blue, Mountain Dew, Mountain Dew Code Red, Sierra Mist, Mug, Slice, Aquafina, FruitWorks, Dole single-serve juices and SoBe. The company also makes and markets North America's best-selling ready-to-drink iced teas and coffees, respectively, via joint ventures with Lipton and Starbucks.
Hershey Foods Corporation (www.hershey.com) is the leading North American manufacturer of quality chocolate and non-chocolate confectionery and chocolate-related grocery products. Some of the company's most popular products include HERSHEY&reg'S milk chocolate and milk chocolate with almonds bars, HERSHEY&reg'S KISSES&reg chocolates, REESE'S&reg peanut butter cups, JOLLY RANCHER&reg and TWIZZLERS&reg candies, HERSHEY&reg'S cocoa, and HERSHEY&reg'S syrup. The company also is a market leader in the gum and mint category with such well-known brands as ICE BREAKERS&reg, BREATH SAVERS&reg, and BUBBLE YUM&reg.
As for the other soda, it's pretty top secret right now. I found the logo above on a website called Pepsi Italian Chicken Soda. I guess they've teamed up with Burger King to make the world's first chicken flavored carbonated beverage. How about that?
No idea when it's coming out, but I'll keep you in the loop ...
---
home | e-mail
---

Last Updated on: May 01, 2003
&copy 2003-2004 Joshua Paul Edwards
all rights reserved.
Seat cushion is not an approved flotation device.
12.18.2.13.3