---
Rally Monkeys
So I've been wanting to write a thing about the Anaheim Angels since they CRUSHED the New York Yankees a few weeks ago in the American League playoffs. But I didn't want to jinx anything, so I've held off.
And then last night they won the seventh game of the World Series to beat the San Francisco Giants.
I can't pretend to be a huge Angels fan, I admit it. Technically the Dodgers are my local team, they're about five minutes away. But I really like the American League better - I grew up watching the Red Sox. And the Angels are part of the Walt Disney Company (at least, for now), so I should have some allegiance to them. But really, though, the reason I was rooting for these guys is that they're SO fun to watch. They all can hit like madmen, the pitching staff is phenomenal (and young, too!) and the best part - they never give up, even if they're down big time. We love the Rally Monkey.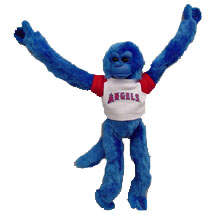 It's just so much fun to root for the winning team. It's a deep rooted human emotion. Acceptance by association. Transferral of achievement. Kicking the other guys' asses.

Especially when the other guy is Barry Bonds. I mean, really, who doesn't want to see his conceited butt get kicked? Sure, he's a great power hitter. His home runs are immense. In game two he hit a ball so far, you could read Tim Salmon's lips in the dugout, "Oh my God, that's the fartherst ball I've ever seen hit."

And Tim hit two homers that night himself.

My personal favorite story is 20 year old pitcher Francisco Rodriguez. The Angels called him up from the Minor Leagues in September. Now, he's joined Randy Johnson as the winningest pitcher in postseason history.

The win in game two was the fifth of the postseason for Rodriguez, tying the record Johnson set last year when the Arizona Diamondbacks won the Series. Rodriguez's also the youngest pitched ever to win a World Series.

Stats be damned, however, he's just unreal. In game two he struck out four batters (Rich Aurilia, Jeff Kent, Benito Santiago and Reggie Sanders) on just three pitches each. His slider is killer.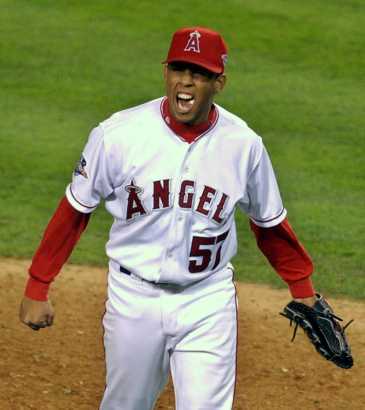 Anaheim Angels pitcher Francisco Rodriguez reacts after striking out three
San Francisco Giants in the eighth inning during game 7 of the World Series.
(AP Photo/Julie Jacobson)
The one thing that bugs me is the constant references to the forty-two years in which the Angels have never won a World Series. Yes, I know that's a long time for a franchise to go. But still the Red Sox last won a World Series in 1918!!! True, they've been a few times since then (1946, 1967, 1975, 1986), eventually screwing up each.
What I'm saying, really, is quit your whining about this forty-two years crap.

Anaheim Angels from left to right, Troy Glaus, 2002 World Series MVP,
catcher Bengie Molina and pitcher Troy Percival react after the Angels won the World Series.
(AP Photo/Mark J. Terrill)
And now the Angels are going to ... well ... Disneyland. "This has taken over as the happiest place on earth tonight," Disney chairman Michael Eisner said last night.
The Angels will parade down Main Street starting at 10 a.m. Tuesday. They will be joined by Anaheim Mayor Tom Daly and Jackie Autry, widow of singing cowboy Gene Autry, the team's former owner.
The festivities will continue at 11 a.m. at the Arrowhead Pond with the official Angels victory parade, which will make its way through Anaheim to Edison Field for a fan appreciation party at noon.
The Angels will make another appearance later that afternoon at the failing Disney's California Adventure.
Starting at 3 p.m., fans will be able to ask the players questions and participate in special activities, culminating in a concert and fireworks display at 7:30 p.m.
---
home | e-mail
---

Last Updated on: October 28, 2002
&copy 2002-2004 Joshua Paul Edwards
all rights reserved.
except for the Angels stuff, which is &copy MLB.
and the photos. I guess they're &copy the AP.