So does this means that Kelly is the biggest loser? Or maybe NOT the biggest loser? I don't know. Still bummed I missed it.
12/01/04 - Perception
I'm not a permanent employee at the company where I work. I'm a "project employee", which puts me above "temp" and somewhere below "tree slug" on the work/evolution scale.
It's okay, I've gotten over the fact that I'm a 28 year old with a college degree who can't even land a real job. And by "real" I mean official, since I'm already doing the equivalent of several of the "real" employees at my company.
Anyway, I thought the worst part of my being "project" was not getting benefits or vacation days or paid holidays, which are all pretty lousy. But this morning I found out the worst part of the job is not getting parking.
See, it's raining today. And I usually I park pretty far away from work. Sure, I could pay for parking in the garage everyone else parks in, or even pay for one of the lots on the street. But that's not likely with the money that they're paying me. So there's this free street parking down the hill that I use. Mapquest says it's a half a mile away. A good ten or fifteen minute hike.
So this morning I parked in my usual spot, and got out of my car. Man, I forgot how much fun forty degree rain is.
Then I hear, "Josh? Hey Josh!"
It was a woman I work with. She was with the other coordinator in my office when I was pulled over the other day. And apparently she lives right by where I park. But she drives to work.
Isn't that odd? I consider that close to work, and she considers it far enough to drive.
Anyway, I got a ride to work this morning. True, when I had to run out to "Bed, Bath and Beyond" (don't ask) I got completely soaked, but at least that was the end of the day ...
12/01/04 - Two Nations Pray for One More Case of Mad Cow ...
You might have seen this in the news yesterday, President Bush is in Ottawa meeting with the Prime Minister and having dinner of Canadian Beef ... beef that is illegal in the US due to the mad cow disease from 2003.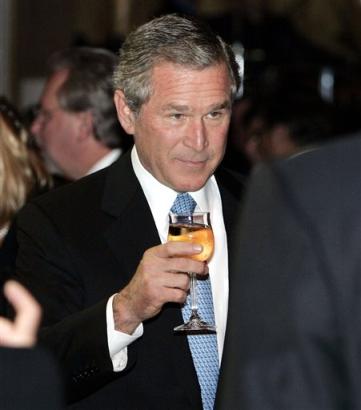 "Hey gar-con, pour me 'nother one!!"

The thing that gets me is that this is Bush's first official trip to Canada. First. And he's been President for what, four full years next month??

Granted, Bush has never been much of a tourist. I just looked it up - he'd been President for a year and a half before making his first major foreign trip, visiting Slovenia, Poland, Sweeden, Brussels and Spain. And you know, Slovenia is much more important than say, a country that we share a 3,200 mile border with.

I think it's simpler. Bush is pissed at Canada because most of them oppose the war in Iraq. Even the former Prime Minister, Jean Chretien, did, and said so.

I think that's why the US is still enforcing the ban on Canadian beef that's been in effect since May of 2003. Retribution. Canadians oppose the war and oppose Bush (58 percent of Canadians say the president's reelection was a bad thing). I think they are better informed than Americans, and thus smarter than Americans - and that scares Bush. And now he wants them in on this retarded-ass missile defense shield, so he's trying to woo them. I hope they don't buy it. They're smarter than that. They're for sure smarter than Americans ...






---
home | e-mail
---

Last Updated on: December 30, 2004
&copy 2004 Joshua Paul Edwards

12.18.2.13.3